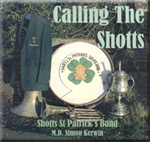 Ironworks/Miners etc. approached their local Parish Priest with a view to setting up a Brass Band.
The priest's name was Fr. Sutherland, who granted permission allowing the name of the Parish St. Patrick's to be utilised within the Bands Constitution.
125 years later the Band continues to flourish , still affiliated to the Parish and still drawing youngsters from Shotts and surrounding areas to be educated in reading Music and Brass Playing.
This CD has been recorded to celebrate the Bands 125 years existence and is dedicated to the people of Shotts who have supported their Band throughout this significant period.
Featured on CD is a new work "Springhill Brig" composed by the Bands MD Simon Kerwin. This March is dedicated to the Shotts St Patrick's Bans and takes its name from the site of the first Band Hall.
To listen to a 30 sec preview of the some of tracks on the CD. click on any of the tracks below: